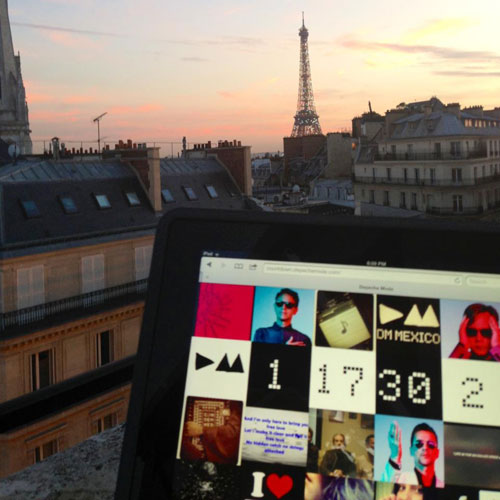 Depeche Mode -
Noticias Recientes
Escrito por Info
Miércoles, 22 de Septiembre de 2010 16:52
Depeche Mode ha anunciado sus planes para lanzar un DVD en vivo de dos recientes presentaciones en España de su gira mundial.

Tour Of The Universe – Live In Barcelona presenta 21 canciones grabadas durante las dos noches en el Palau St Jordi en la ciudad el pasado noviembre.

El lanzamiento es un set que viene en tres diferentes formatos, incluyendo una versión especial de cuatro discos, la cual contiene el concierto, una presentación de contenido extra, incluyendo las cuatro canciones extra alternas grabadas entre las dos noches, un documental de la gira – Inside The Universe–, dos canciones filmadas en los ensayos de la gira en Nueva York y las filmaciones para las pantallas especialmente creadas por Anton Corbijn para siete canciones que más adelante sirvieron para las pantallas del escenario.
La super versión de lujo vendrá con dos CD's en vivo presentando las 21 canciones del concierto, junto con cuatro videos promocionales de su album del 2009 Sounds Of The Universe.
*Super deluxe 4-disc version (2xDVD, 2xCD):*

DVD1 (las 21 canciones en vivo ademas 4 canciones extras/alternas)

DVD2 (contenido extra incluyendo documental y videos promocionales)

2 x CD (audio de los 21 canciones del DVD1)

La version de lujo también contendrá un DVD sencillo del concierto con canciones adicionales y dos CD's de audio. Tour Of The Universe – Live In Barcelona también será lanzado en Blu-Ray.
*Deluxe version (1 x DVD, 2 x CD):*

Contiene DVD1 y los 2 cd´s de audio
La lista completa de canciones para la versión de lujo de Tour Of The Universe – Live In Barcelona es la siguiente:

DVD1
'In Chains'
'Wrong'
'Hole To Feed'
'Walking In My Shoes'
'It's No Good'
'A Question Of Time'
'Precious'
'Fly On The Windscreen'
'Jezebel'
'Home'
'Come Back'
'Policy Of Truth'
'In Your Room'
'I Feel You'
'Enjoy The Silence'
'Never Let Me Down Again'
'Dressed In Black'
'Stripped'
'Behind The Wheel'
'Personal Jesus'
'Waiting For The Night'
Canciones Extras
World In My Eyes (20th)
Sister Of Night (21st)
Miles Away / The Truth Is (20th)
One Caress (20th)

DVD2
-Inside The Universe
Tour documentary with subtitles: English, German, French, Italian,
Spanish, Portuguese, Japanese, Hungarian and Czech.
Tour Of The Universe / Pantallas:
'In Chains'
'Walking In My Shoes'
'Precious'
'Come Back'
'Policy Of Truth'
'Enjoy The Silence'
'Personal Jesus'

Tour Of The Universe / Ensayos:
'Wrong'
'Walking In My Shoes'

Canciones Extras:
Insight
Hole To Feed
Behind The Wheel
Never Let Me Down Again

Sounds Of The Universe - Videos:
'Wrong'
'Peace'
'Hole To Feed'
'Fragile Tension'

Detalles de los CD`s de audio con creditos:

CD1

1. In Chains (Live In Barcelona) - Depeche Mode 8:13
2. Wrong (Live In Barcelona) - Depeche Mode 3:48
3. Hole To Feed (Live In Barcelona) - Depeche Mode 4:10
4. Walking In My Shoes (Live In Barcelona) - Depeche Mode 6:19
5. It's No Good (Live In Barcelona) - Depeche Mode 5:10
6. A Question Of Time (Live In Barcelona) - Depeche Mode 4:36
7. Precious (Live In Barcelona) - Depeche Mode 4:44
8. Fly On The Windscreen (Live In Barcelona) - Depeche Mode 5:35
9. Jezebel (Live In Barcelona) - Depeche Mode 4:47
10. Home (Live In Barcelona) - Depeche Mode 6:39

CD2:

1. Come Back (Live In Barcelona) - Depeche Mode 6:05
2. Policy Of Truth (Live In Barcelona) - Depeche Mode 5:14
3. In Your Room (Live In Barcelona) - Depeche Mode 5:26
4. I Feel You (Live In Barcelona) - Depeche Mode 6:04
5. Enjoy The Silence (Live In Barcelona) - Depeche Mode 7:12
6. Never Let Me Down Again (Live In Barcelona) - Depeche Mode 8:24
7. Dressed In Black (Live In Barcelona) - Depeche Mode 4:10
8. Stripped (Live In Barcelona) - Depeche Mode 5:20
9. Behind The Wheel (Live In Barcelona) - Depeche Mode 5:10
10. Personal Jesus (Live In Barcelona) - Depeche Mode 6:33
11. Waiting For The Night (Live In Barcelona) - Depeche Mode 7:48

Creditos:

BAND:
Andy Fletcher Keyboards
Dave Gahan Vocals
Martin L. Gore Instruments
Christian Eigner Drums
Peter Gordeno Keyboards

RECORDED BY:
Will Shapland Recording Engineer
David 'Skippi' Loudoun Recording Engineer
Chris Goddard Recording Engineer
Caitlin Cresswell Recording Engineer

MIXED BY:
Christian Eigner Mixer
Antony King Mixer
Kerry Hopwood Mixer
Kevin Paul Mixer

MASTERED BY:
Simon Heyworth Mastering Engineer

Mix Location: Assault & Battery 1 and The Engine Room, Miloco Studio, London


*Blu-ray (2x Blu-ray discs)*

Contenido del Blu-ray:

Disc 1

1. Intro (Live In Barcelona) - 1:40
2. In Chains (Live In Barcelona) - 6:14
3. Wrong (Live In Barcelona) - 3:25
4. Hole To Feed (Live In Barcelona) - 3:52
5. Walking In My Shoes (Live In Barcelona) - 6:03
6. It's No Good (Live In Barcelona) - 4:51
7. A Question Of Time (Live In Barcelona) - 4:13
8. Precious (Live In Barcelona) - 4:29
9. Fly On The Windscreen (Live In Barcelona) - 4:58
10. Jezebel (Live In Barcelona) - 4:33
11. Home (Live In Barcelona) - 6:17
12. Come Back (Live In Barcelona) - 5:39
13. Policy Of Truth (Live In Barcelona) - 4:52
14. In Your Room (Live In Barcelona) - 5:10
15. I Feel You (Live In Barcelona) - 5:49
16. Enjoy The Silence (Live In Barcelona) - 7:06
17. Never Let Me Down Again (Live In Barcelona) - 6:31
18. Dressed In Black (Live In Barcelona) - 4:00
19. Stripped (Live In Barcelona) - 4:58
20. Behind The Wheel (Live In Barcelona) - 4:43
21. Personal Jesus (Live In Barcelona) - 5:49
22. Waiting For The Night (Live In Barcelona) - 5:03

23. World In My Eyes (Live In Barcelona) - 4:42
24. Sister Of Night (Live In Barcelona) - 5:31
25. Miles Away / The Truth Is (Live In Barcelona) - 4:08
26. One Caress (Live In Barcelona) - 3:31

Disc 2

1. "Most people just worry about hitting the right note" - Inside The Universe - 35:20
Includes: In Chains, A Question Of Time, Walking In My Shoes, One Caress, Little Soul
2. In Chains (Tour Of The Universe / Screens) - 6:52
3. Walking In My Shoes (Tour Of The Universe / Screens) - 6:13
4. Precious (Tour Of The Universe / Screens) - 4:46
5. Come Back (Tour Of The Universe / Screens) - 5:52
6. Policy Of Truth (Tour Of The Universe / Screens) - 5:07
7. Enjoy The Silence (Tour Of The Universe / Screens) - 6:47
8. Personal Jesus (Tour Of The Universe / Screens) - 4:51
9. Wrong (Tour Of The Universe / Rehearsals) - 3:35
10. Walking In My Shoes (Tour Of The Universe / Rehearsals) - 6:18
11. Insight / Live - 4:28
12. Hole To Feed / Live Screen Montage - 4:01
13. Behind The Wheel / Barcelona Montage - 5:15
14. Never Let Me Down Again / Live Screen Montage - 6:48
15. Wrong - 3:18 Director: Patrick Daughters
16. Peace - 3:43 Directed by Jonas & Francois
17. Hole To Feed - 4:09 Director: Eric Wareheim
18. Fragile Tension - 3:37 Director: Rob Chandler & Barney Steel
Fuente: nme.com dm.sk