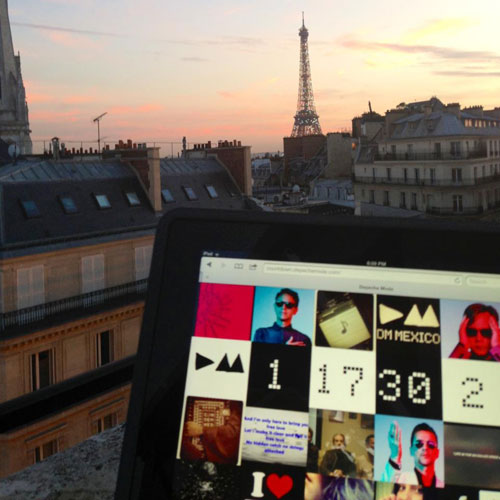 Depeche Mode -
Noticias Recientes
Escrito por Ana Soto
Miércoles, 23 de Marzo de 2011 05:46
Fuente: depechemode.com
El próximo 6 de junio de 2011, Depeche Mode lanzará su nuevo disco "Remixes 2: 81-11" bajo su antiguo sello Mute. Se trata de una colección de remixes tanto nuevos como clásicos que cubren toda su carrera.
El disco lo mismo incluye remixes de canciones de su disco debut de 1981 "Speak And Spell", como de su álbum del 2009 "Sounds Of The Universe" y da continuidad a su lanzamiento del 2004 "Remixes 81-04" que vendió millones de copias.
Estos remixes refuerzan la figura de Depeche Mode como uno de los artistas más innovadores y con mayor influencia.
Depeche Mode ha estado al frente de la cultura del remix culture durante 30 años y esta nueva compilación incluye remixes ya clásicos de M83, UNKLE, Trentemøller, François Kervorkian y Dan The Automator, así como nuevos remixes realizados por Stargate, Eric Prydz, Karlsson & Winnberg (de Miike Snow) and Röyksopp.
Además, la edición de 3 discos incluye remixes de los antiguos miembros de la banda: Vince Clarke y Alan Wilder, quienes por primera vez  han realizado remixes para sus antiguos compañeros.
El disco "Remixes 2: 81-11" estará disponible en dos diferentes formatos en CD: version de 1 disco y version de 3 discos, también estará disponible la versión para descargar y una Caja de 6 viniles de 12".
Algunos cortes sobresalientes son los remixes de "Dream On" del disco del 2001 "Exciter"; "Suffer Well," "John the Revelator" y "A Pain That I'm Used To" del disco del 2006 "Playing The Angel"; así como "In Chains," "Peace" y "Wrong" del disco del 2009 "Sounds Of The Universe".
MIentras que entre los nuevos remixes se incluyen "Tora! Tora! Tora!" y "Puppets" del disco de 1981 "Speak And Spell"; "Never Let Me Down Again" y "Behind The Wheel" del disco "Music For The Masses"; "A Question Of Time" del disco de 1986 "Black Celebration"; "Personal Jesus", del disco de 1990 "Violator".
Esta es la lista de canciones de ambas versiones de "The Remixes 2: 81-11"
Versión de 1 Disco:
1. Dream On - Bushwacka Tough Guy Mix Edit (2001)
2. Personal Jesus - The Stargate Mix (2011)
3. Suffer Well - M83 Remix (2006)
4. John The Revelator - UNKLE Reconstruction (2006)
5. In Chains - Tigerskin's No Sleep Remix Edit (2011)
6. Peace - SixToes Remix (2009)
7. Tora! Tora! Tora! - Karlsson And Winnberg (from Miike Snow) Remix (2011)
8. Never Let Me Down Again - Eric Prydz Remix (2011)
9. I Want It All - Roland M.Dill Remix (2011)
10. Wrong - Trentemøller Remix (2009)
11. Puppets - Röyksopp Remix (2011)
12. Everything Counts - Oliver Huntemann And Stephan Bodzin Dub (2006)
13. A Pain That I'm Used To - Jacques Lu Cont Remix (2005)
Versión de 3 Discos:
Disco 1:
1. Dream On - Bushwacka Tough Guy Mix (2001)
2. Suffer Well - M83 Remix (2006)
3. John The Revelator - UNKLE Reconstruction (2006)
4. In Chains - Tigerskin's No Sleep Remix (2009)
5. Peace - SixToes Remix (2009)
6. Lilian - Chab Vocal Remix Edit (2006)
7. Never Let Me Down Again - Digitalism Remix (2006)
8. Corrupt - Efdemin Remix (2009)
9. Everything Counts - Oliver Huntemann And Stephan Bodzin Dub (2006)
10. Happiest Girl - The Pulsating Orbital Vocal Mix (1990)
11. Walking In My Shoes - Anandamidic Mix (1993)
12. Personal Jesus - The Stargate Mix (2011)
13. Slowblow - Darren Price Mix (1997)
Disco 2:
1. Wrong - Trentemøller Club Remix (2009)
2. World In My Eyes - Dub In My Eyes (1990)
3. Fragile Tension - Peter Bjorn and John Remix (2009)
4. Strangelove - Tim Simenon/Mark Saunders Remix (1998)
5. A Pain That I'm Used To - Jacques Lu Cont Remix (2005)
6. The Darkest Star - Monolake Remix (2006)
7. I Feel You - Helmet At The Helm Mix (1993)
8. Higher Love - Adrenaline Mix Edit (2004)
9. Fly On The Windscreen - Death Mix (1985)
10. Barrel Of A Gun - United Mix (1997)
11. Only When I Lose Myself - Dan The Automator Mix (1998)
12. Ghost - Le Weekend Remix (2009)
Disco 3:
1. Personal Jesus - Alex Metric Remix Edit (2011)
2. Never Let Me Down Again - Eric Prydz Remix (2011)
3. Behind The Wheel - Vince Clarke Remix (2011)
4. Leave In Silence - Claro Intelecto 'The Last Time' Remix (2011)
5. In Chains - Alan Wilder Remix (2011)
6. When The Body Speaks - Karlsson And Winnberg Remix (2011)
7. Puppets - Röyksopp Remix (2011)
8. Tora! Tora! Tora! - Karlsson And Winnberg (from Miike Snow) Remix (2011)
9. Freestate - Clark Remix (2011)
10. I Want It All - Roland M. Dill Remix (2011)
11. A Question Of Time - Joebot Presents 'Radio Face' Remix (2011)
12. Personal Jesus - Sie Medway-Smith Remix (2011)